Know How it's Work – Screenshot
This steps will guide you to export OST File into EML, MSG, and PST Format.
Step 1
Open & Run the OST Recovery Tool. Click Start » Search OST Recovery Tool » Launch OST Recovery Software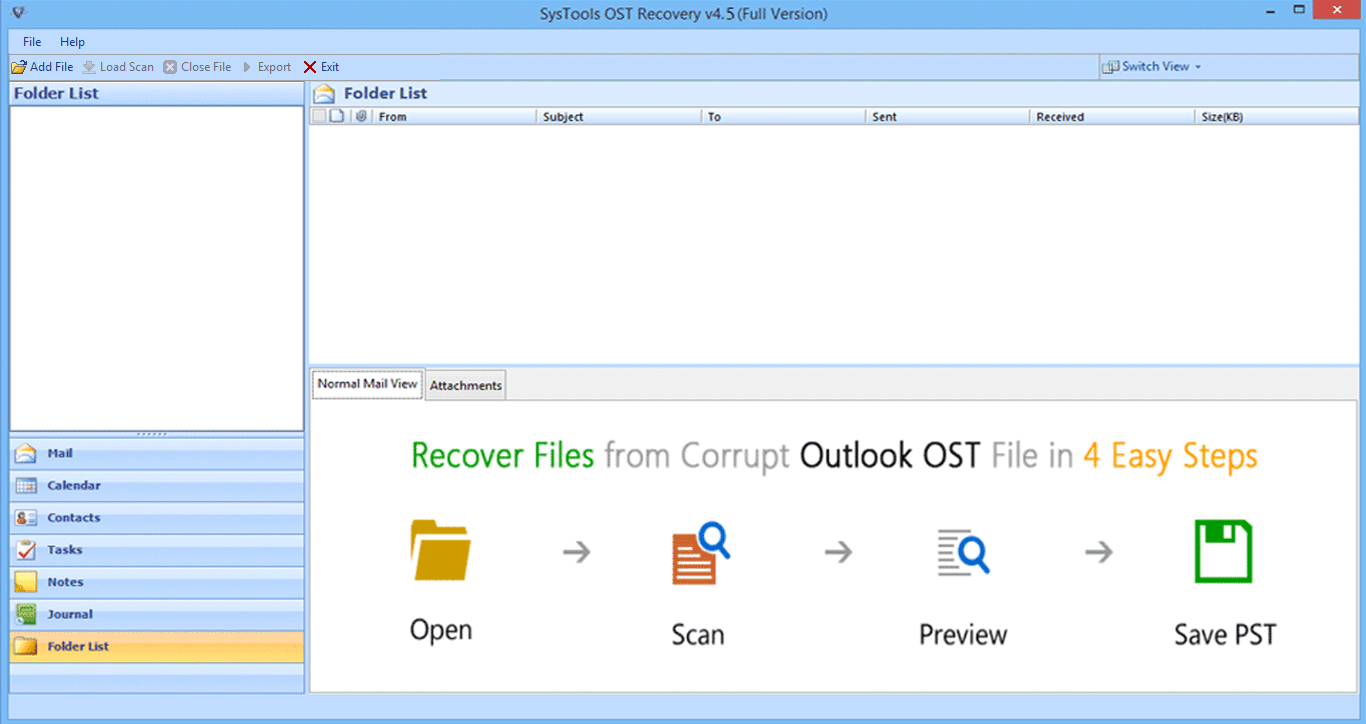 Step 2
To select the OST file, click on "ADD File" button as highlighted below.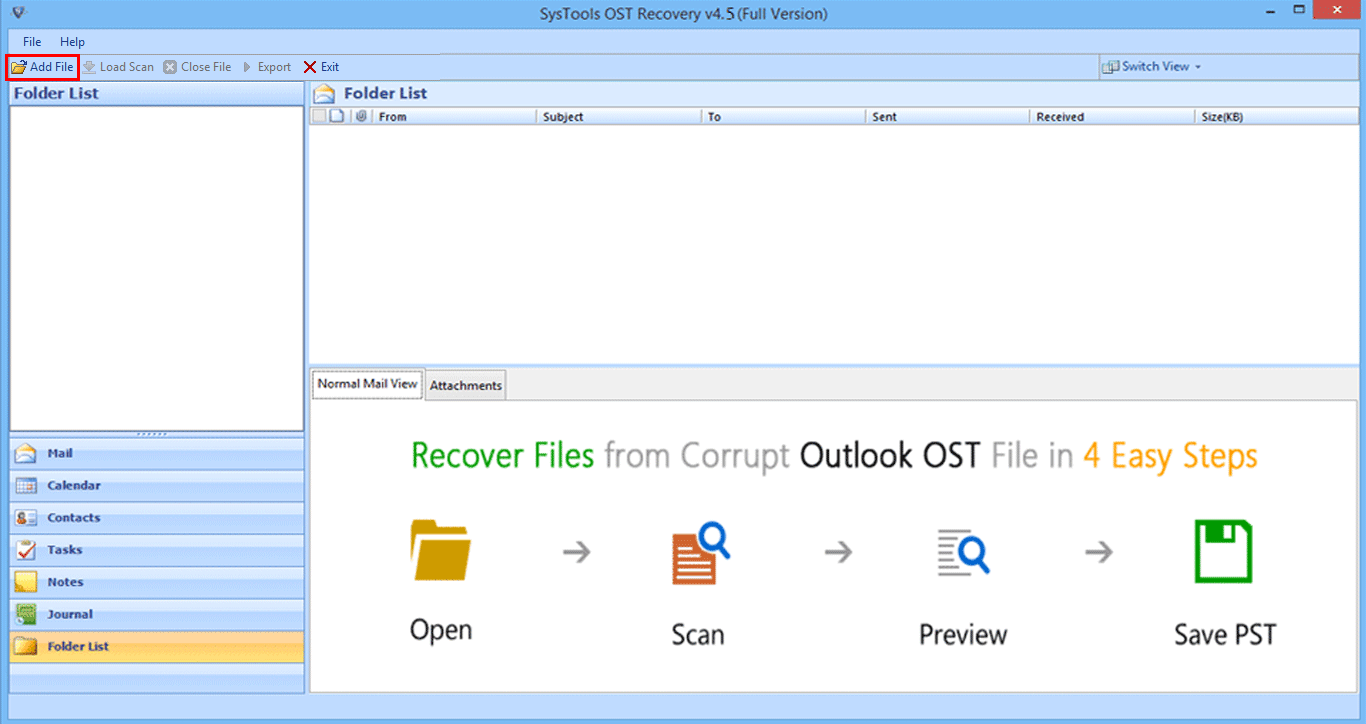 Step 3
As you click on Add file button, a small window will pop up and you need to browse the OST file location from machine.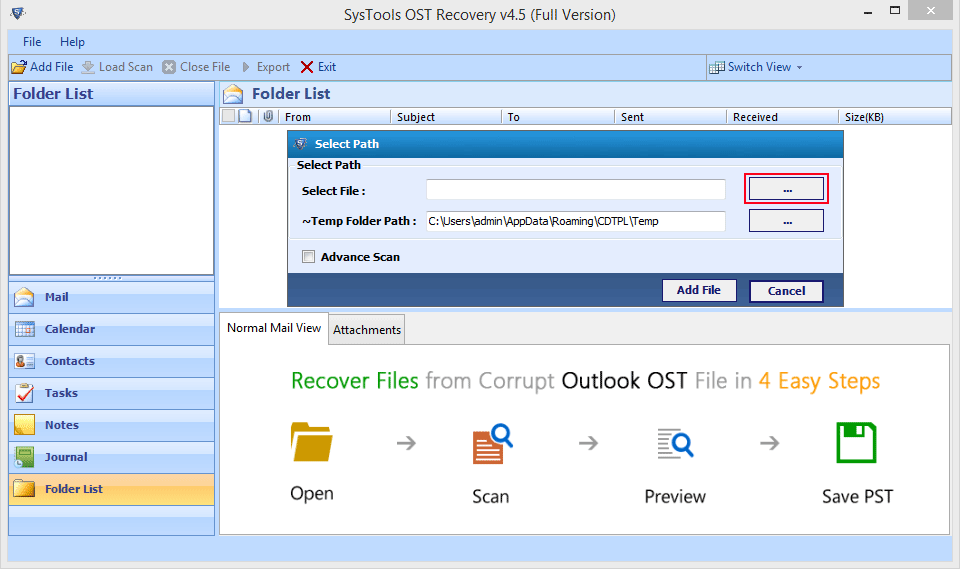 Step 4
Select any one of the OST files from the folder. The size of OST file has no limitation as you can see in image that the selected OST file is quite large in size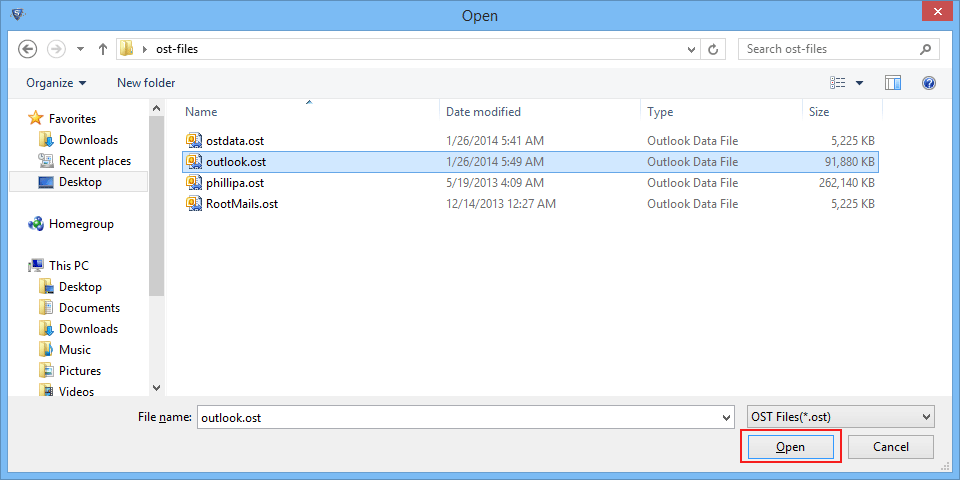 Step 5
After adding the OST file, software will perform a quick scanning of file to recover the data from the OST file Or
If your OST file is corrupt, then Quick scanning won't give precise results and in that case, you need to check the advance scanning option.
Advance Scan Option: This option is workable if your OST file is severely corrupt or auto scanning fails to recover OST file data.
Temp Folder Path: This option helps in minimizing the size of installation drive by moving the temp folder path to desired drive. (Temp folder is the folder where the software keep the scanned copy of OST file)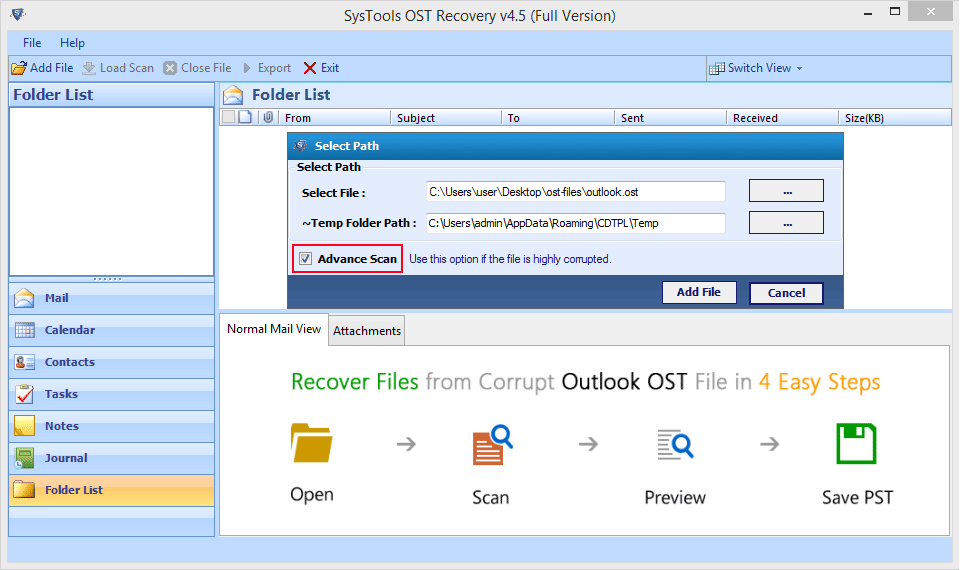 Step 6
The following screen will appear while the file scanning goes on. You can see the details like: name of file being scanned, its overall size in KB & the file creation date.
In case you want to break the scanning process in between, click on Stop button.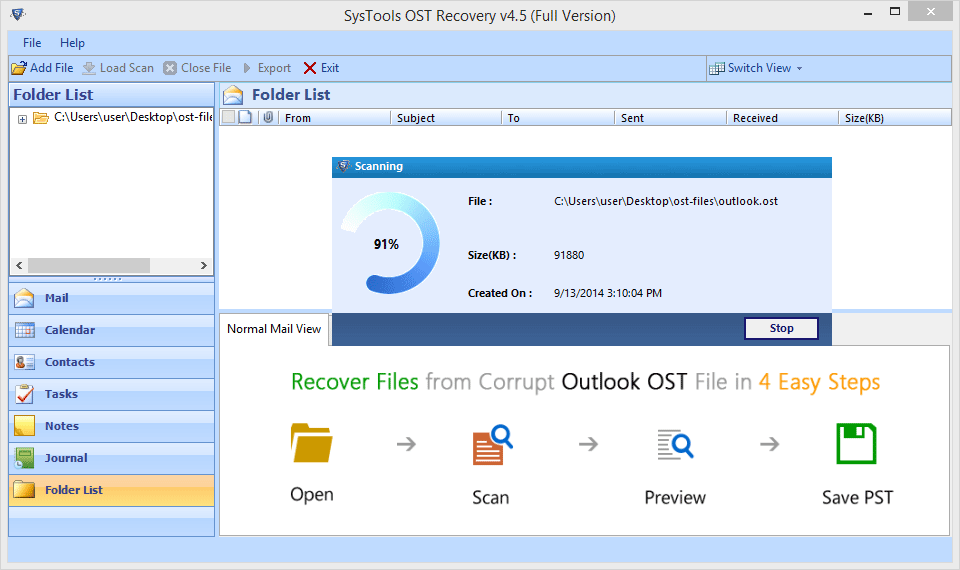 Step 7
After complete scanning of OST file, the software will load all the folders within OST file in the left pane; as shown in image. Next; you can click on each folder to view the item count and list in the right pane.
Normal Mail View: You can view complete emails within the Normal Mail View Tab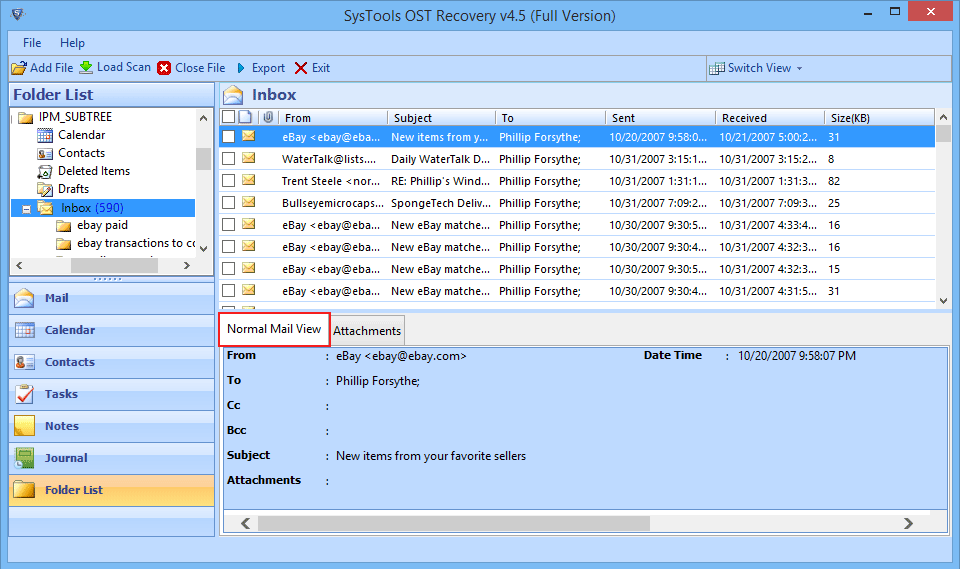 Step 8
You can also view the attachments along with each email. For that you need to click on Attachments Tab
Attachments Tab: In this tab you can view the attachments associated with each email. Attachments like PDF, Image, Documents can be viewed.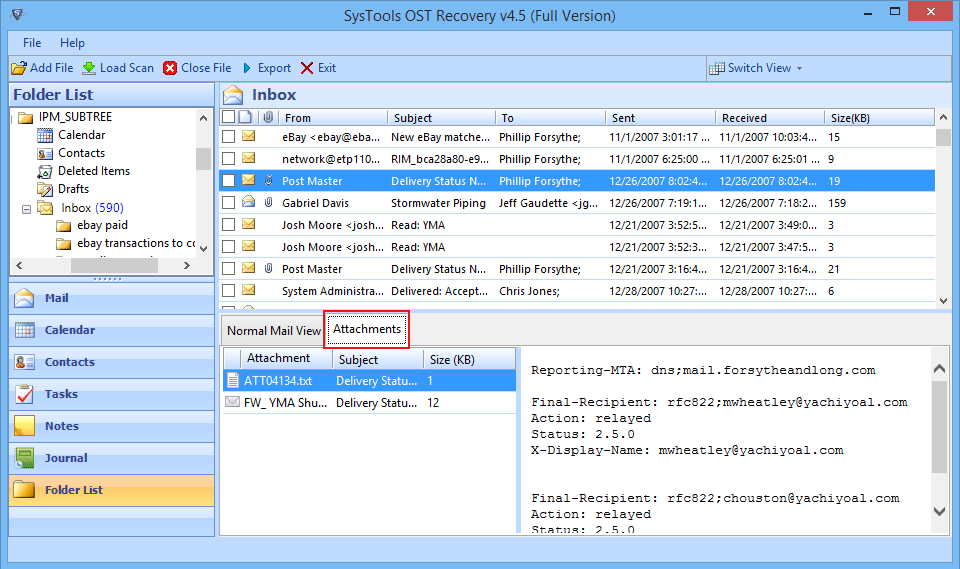 Step 9
Next, a switch screen view option is provided to you for changing the mode of screen from Horizontal to Vertical & Vice Versa as per your requirement.
Step 10
Selecting individual emails & then selecting the Export option after right click, the following Export option window will pop up. Here you can choose the appropriate file format, filter mail and define a size to split PST file.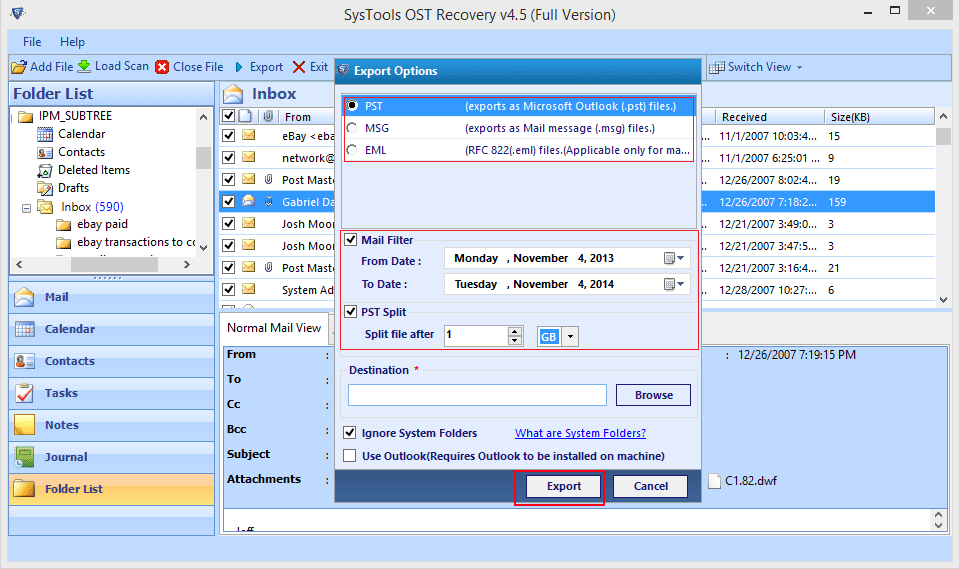 Step 11
Next, browse a location to save the exported file.As you click on browse button, the following window will appear. Here, you can either choose a location to save file or "Make a New folder" directly from software panel. Click "Export" to continue with export process and save the file in selected format.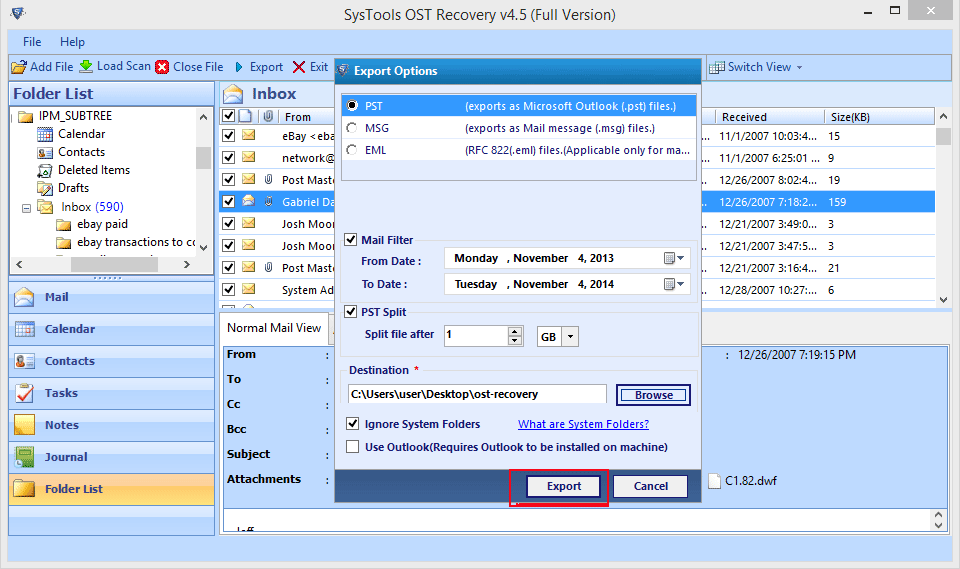 Step 12
You can view the real time exporting of items from source to destination, as shown below. Also, you can stop the conversion in between; if needed.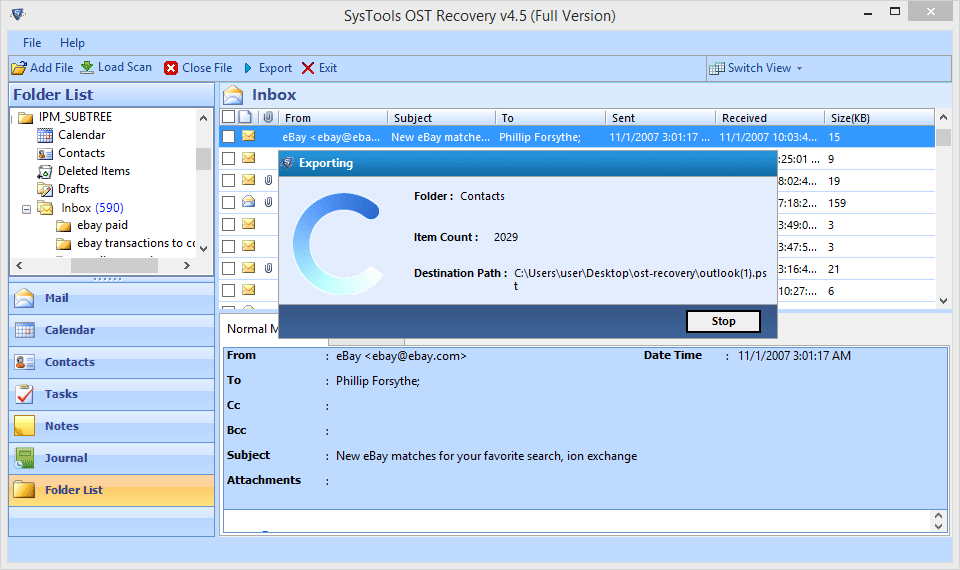 Step 13
Once the conversion finishes, an export report will be generate as shown in below screen. You can save this report as CSV for future records.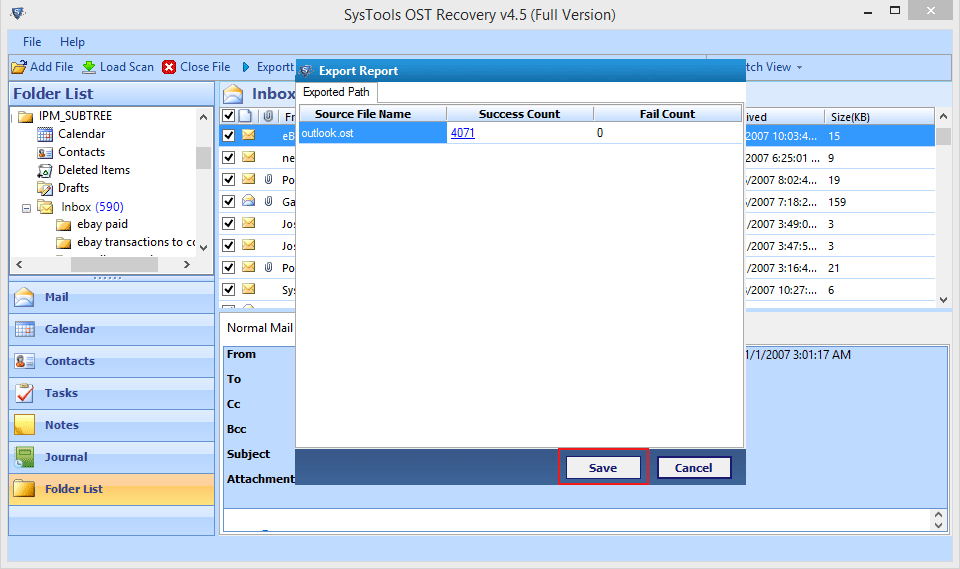 Step 14
Once the Export Report get saved, the following message will appear. Click OK to exit.